New Waterco Mineral Chlorinator makes pools smarter and simpler
February 1st, 2023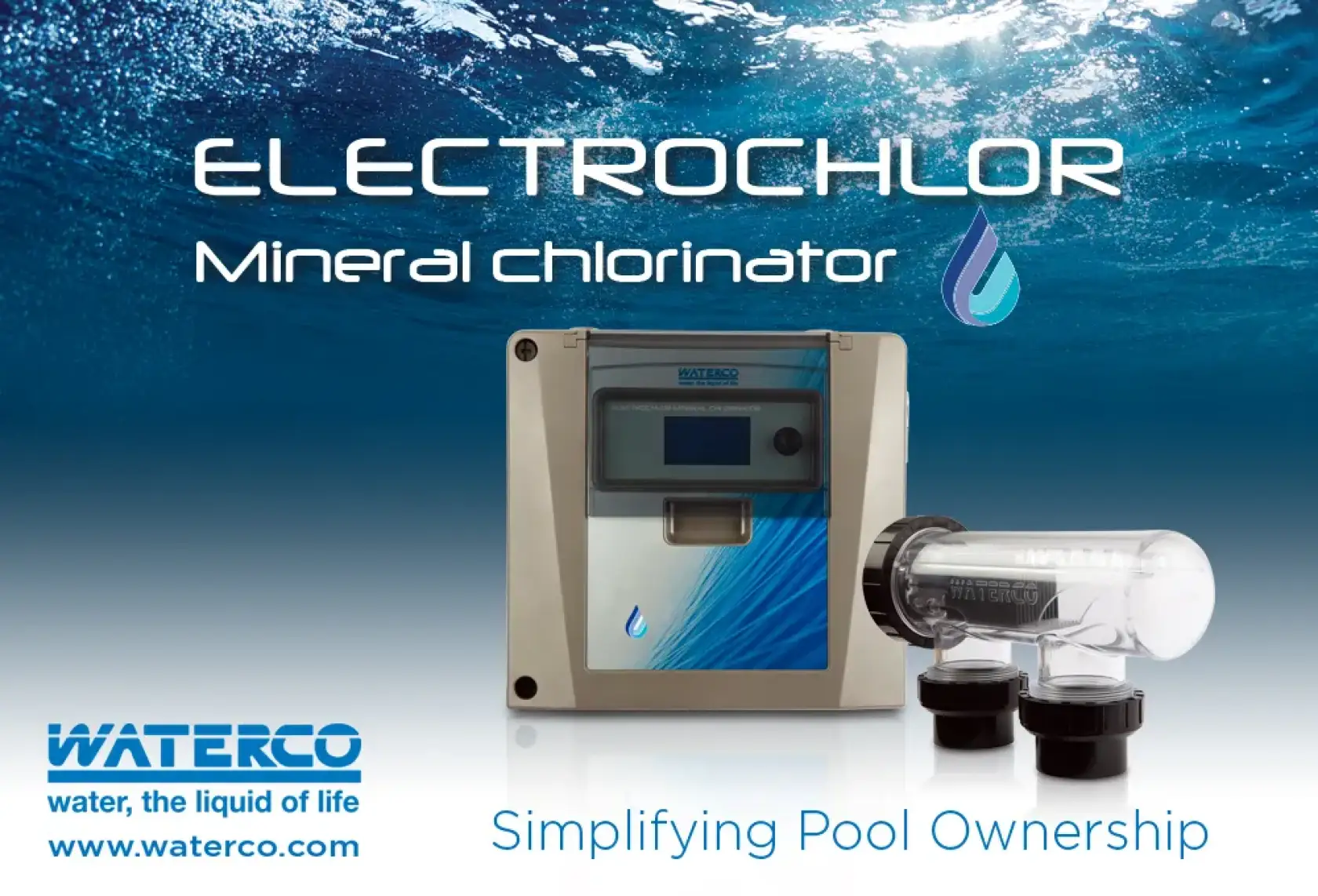 Waterco's new energy saving Electrochlor Mineral Chlorinator makes swimming pools smarter by automatically operating filtration and auxiliary equipment so homeowners don't have to. It features four intelligent, independent timers which conveniently control the pump, pool lights and auxiliary equipment from one easy-to-use unit.
"A chlorine generator's primary function is to produce chlorine for the pool, which is essential in preventing the recurrence of algae and bacteria," explains Waterco Water Specialist Victor Quijada. "Electrochlor not only activates equipment like variable speed pumps but also enables you to control their speed. You can even set the pump to low speed during filtration to maximise energy savings or manually activate it via Electrochlor during a pool service or backwashing."
But it doesn't stop there. Electrochlor timers can be programed to activate equipment commonly associated with swimming pools.
"You can schedule it to change the speed of the pump in conjunction with an actuated valve to activate a water feature or pressure cleaner," Victor explains, "or just program its secondary power outlet (GPO) to turn on the pool lights. Electrochlor includes a unique sensor to monitor and display pool water temperature, which is also used as a reference to eliminate false salt warnings."
Electrochlor's user-friendly diagnostic menu displays the current status of the pool's essential functions and alarms at any given time, making it easier and quicker for pool technicians and service professionals to do their job.
Special features of Waterco's Electrochlor Mineral Chlorinator
Dual-pool solution – suitable for pools using salt chlorination and Waterco's Mineral Crystals

Energy Saving – features the latest Switch Mode Power Technology to increase energy efficiency by over 50 per cent, significantly reducing power consumption and therefore energy bills. Electrochlor draws less current and this translates to high power conversion and less energy wastage, without compromising chlorine output.

Intelligent – a Power Pack intelligently recognises the size of the connected chlorinator cell and automatically adjusts its power output to suit.

Pool water temperature display – a temperature sensor displays pool water temperature on an LCD screen

Self-cleaning electrolytic salt cell – reverses the polarity of the voltage to clean calcium build-up off its electrodes, extending the product's lifespan and ensuring it operates at maximum efficiency 

Battery backup power pack – automatically saves settings in the event of a power outage

Pump protection – shuts down the pump where water flow is not detected, and then automatically displays the corresponding alarm

Salt alarms – automatically reduces the output and displays the corresponding alarm when the salt level in the pool water is too low or too high. It then records a digital time stamp. Electrochlor also monitors the pool's temperature to eliminate false low salt level readings often attributed to low pool temperatures

Variable speed pump control – automatically changes the speed of your Waterco
variable speed pump at the desired cycle if required via communication cable via communication cable

Pool water temperature display – special sensor displays water temperature on a backlit LCD screen

Dual general power outlets (GPO) – two GPOs are included, one for the pool pump and another for a pool light or auxiliary device, which need to be operated under a timer

Four independent timers – allow you to control the pump, pool light and auxiliary equipment conveniently from one compact unit

Super chlorination function – production is raised to 100 per cent during a 24-hour period to super-chlorinate the pool, then returns to its pre-set operating condition once completed

Diagnostic menu – allows pool owners and technicians to quickly and easily assess its operational status and troubleshoot potential issues

Actuator control – connect a valve actuator to divert water flow and activate the correct on a variable speed pump for your pool's water feature or in-floor cleaning system

Dual-pump control – control another pump in conjunction with a variable speed pump
simultaneously, which means you can operate an in-floor pool cleaning pump or pressure
pool cleaner at the same time as the main pool pump
"Waterco's Electrochlor Mineral Chlorinator makes pool ownership easy by taking the guesswork and effort required to maintain a healthy, sparkling swimming pool," says Victor. "It's part of our commitment to designing products that help make owning a pool more enjoyable for everyone."
About Waterco Ltd – www.waterco.com
Waterco pioneers reliable solutions for healthy, safe water environments, which are used in residential, commercial and industrial applications in over 40 countries. Established in 1981 with a single pool pump store in Sydney, Australia, it has since become a global brand recognised for designing and manufacturing filtration and sanitisation innovations for the swimming pool, spa, aquaculture, and water purification sectors.
Listed on the ASX in 1989, Waterco (ASX:WAT) has evolved into a technological and manufacturing powerhouse that makes products more energy and water efficient, and easier to maintain.
Waterco is also the franchisor of Swimart, one of Australia and New Zealand's largest network of pool and spa retail outlets, which has 73 franchise outlets and a fleet of more than 250 mobile service vans. It is also the exclusive distributor of Zane Pool Heating solutions via a network of Australian dealerships.
Waterco's head office is in Sydney, Australia with international offices, manufacturing and R&D plants and warehouses located in Australia, New Zealand, Malaysia, Indonesia, Singapore, China, US, Canada, France, and the UK. 
For further information, please contact:
Veda Dante
Llewellyn Communications
t: 02 6688 4010  m: 0409 080 567
e: veda@llewcom.com.au
SPLASH! Magazine
New Issue Out Now
Subscribe Today
Get the latest industry news & free magazine direct to your inbox.