Children and pool drowning numbers show improvement
November 10th, 2023
The National Drowning Report 2023, released in September, found there were 281 drowning deaths over the past 12 months, which is 17 per cent lower than last year (339), and returns the annual drowning toll closer to pre-pandemic levels.
Swimming pool drowning deaths also decreased, with 29 deaths compared to the 10-year average of 35. Of those deaths, 45 per cent were in backyard pools, 17 per cent were in public pools, and 31 per cent were in "temporary residence" pools such as at a motel, hotel, resort, caravan park, hostel, retirement village, private business or an apartment building.
The National Drowning Report 2023 insights include:
• 6 per cent were children under 5 year of age (16 deaths), down by 33 per cent on the 10-year average.
• 57 per cent were adults 45 years or older (160 deaths).
• 44 per cent occurred in coastal environments (125 deaths), 75 deaths were at beaches, 33 deaths in the ocean or harbours, and 17 deaths were off rocks.
• 37 per cent occurred in inland waterways (103 deaths), 76 deaths in rivers, 27 deaths in lakes.
• 10 per cent occurred in swimming pools (29 deaths), 13 deaths were in backyard pools.
While the overall decline in drowning deaths has been welcomed, the growth in drowning deaths in every age group over 45 has worried water safety experts.
Royal Life Saving Society Australia CEO Justin Scarr says drowning prevention efforts were saving young lives with a 33 per cent decrease in drowning deaths in children aged 0-4 years old compared to the 10-year average.
"Royal Life Saving urges against complacency. With summer approaching, pool owners should check that their pool fence is in good working order, remember to constantly keep watch when young children are around water, and avoid distractions like mobile phones," he says.
He also urged men to make the right call, and avoid alcohol and drugs around water, and for older adults to consider the potential impacts of medical conditions and medications on water activities including swimming and boating.
He is still concerned about declining swimming and water safety skills among children and adults more generally, saying the impacts of missed lessons throughout the covid-19 pandemic will have generational impacts on safety if left unaddressed.
Although 59 per cent of people who drowned lived in major cities, those living in outer regional, remote, and very remote areas are almost twice as likely to drown. Those from disadvantaged areas are also more likely to drown than those from advantaged areas.
Royal Life Saving Australia and Surf Life Saving Australia are preparing for summer, including bringing forward campaigns, resourcing lifesaving services and working with councils and community groups to promote safety around water.
Royal Life Saving Australia and Surf Life Saving Australia advise people to:
• Always supervise children in, on and around water.
• Learn swimming, water safety and lifesaving skills.
• Wear a lifejacket when boating, rock fishing or paddling.
• Swim at a patrolled beach between the red and yellow flags.
• Avoid alcohol and drugs around water.
• Check the conditions, including weather forecasts.
Swimming pools insights
In 2022/23 drowning deaths in swimming pools decreased by 17 per cent compared to the 10 year average, with 29 deaths compared to the average of 35.
Publicly accessible pools – including council-owned indoor or outdoor pools, and commercial pools or fitness centres, university/school pools and commercial learn-to-swim centres – offer a safe place to swim and learn water safety skills, providing an estimated $174 million in avoided child drowning costs per year in Australia.
Tragically, despite the design expertise and skilled management of these spaces, child and adult drowning deaths at publicly accessible pools do occur.
Caregiver supervision of children is still the best way to prevent child drowning, regardless of if professional lifeguards are present. Public pools with sudden drops in depth pose a risk to non-swimmers and weak swimmers. Older adults are at risk of falling into backyard pools or not being able to get to safety if experiencing a medical incident while in a pool.
Recent research has found that one in seven Australians live in a house with a swimming pool or spa. Regional Queensland (including Gold Coast, Sunshine Coast, Bundaberg, Mackay,
Townsville and Cairns) leads the nation with nearly one in four regional Queenslanders living in a house with a swimming pool or spa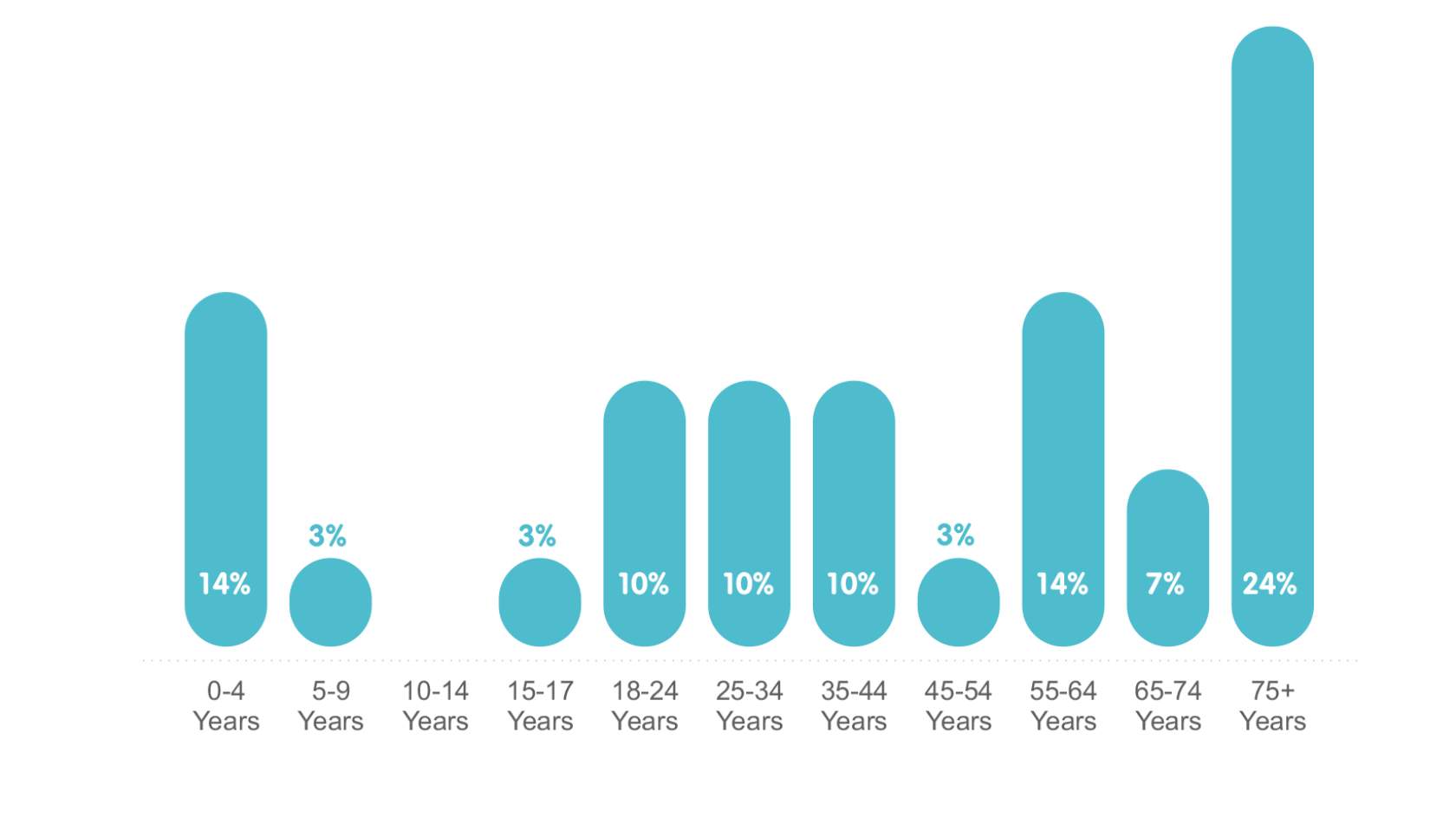 2022/3 pool drownings by age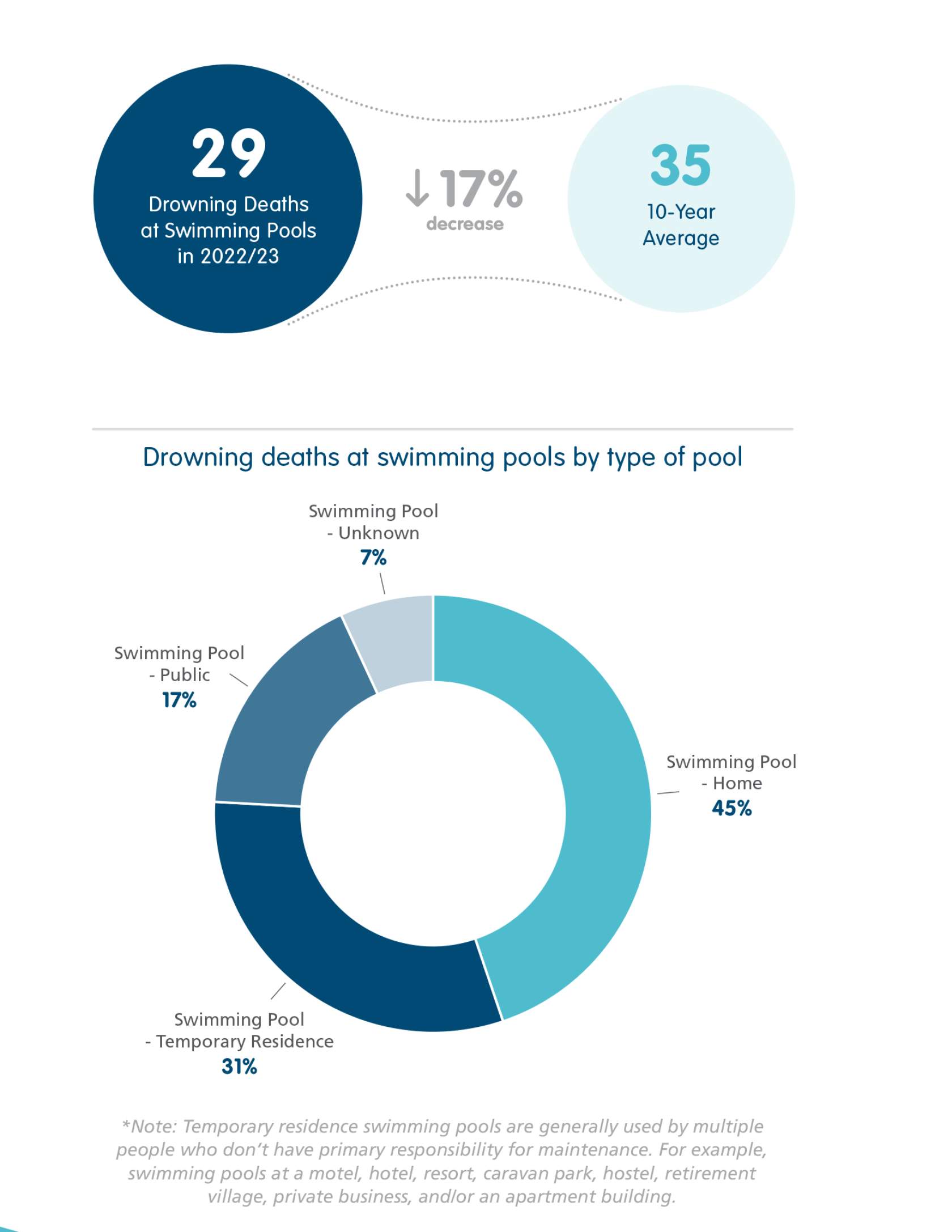 2022/3 pool drownings by location
SPLASH! Magazine
New Issue Out Now
Subscribe Today
Get the latest industry news & free magazine direct to your inbox.